Architecture in Hyderabad, India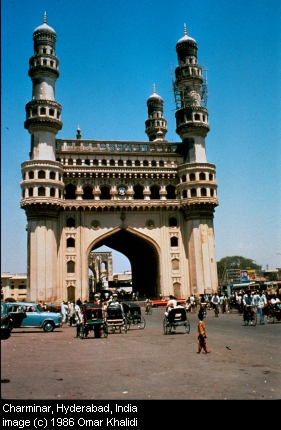 This collection of images and maps documents the architectural history of Hyderabad, India. Hyderabad, one of the largest cities in India, was founded in 1591 by Muhammad-Quli Qutb Shah, the fifth sultan of the Golconda kingdom. It is located in the Deccan plateau region of south central India along the river Musi.
The collection also includes a set of 232 maps from the 1915 Hyderabad Municipal Survey, contributed to the MIT Libraries by Karen Leonard, a historian of Hyderabad. The disastrous floods of 1908 in river Musi that destroyed much of Hyderabad prompted the Nizam's administration to devise plans for new urban design. Led by an engineer, Leonard Munn (1878-1935), a team of surveyors drew up maps for the then municipal limits of Hyderabad city. The original maps are at a scale of 50 feet to one inch (1:600), so building footprints, open spaces, gardens and street patterns are shown in great detail. The Survey divided Hyderabad in a system of 848 1000 N-S by 1400 E-W cells. MIT's collection of the maps is incomplete.
Images in this collection are subject to copyright and are available for research and educational use only.
See also:
Additional images of Hyderabad in the Aga Khan Visual Archive
Omar Khalidi's A Guide to Architecture in Hyderabad, Deccan, India
The print 1915 Municipal Survey maps in Rotch Library
Recent Submissions
(

Repository: Rotch Library, Massachusetts Institute of Technology (Cambridge, Massachusetts, United States)

,

1913

)

(

Repository: Rotch Library, Massachusetts Institute of Technology (Cambridge, Massachusetts, United States)

,

1913

)

(

Repository: Rotch Library, Massachusetts Institute of Technology (Cambridge, Massachusetts, United States)

,

1913

)

(

Repository: Rotch Library, Massachusetts Institute of Technology (Cambridge, Massachusetts, United States)

,

1913

)

(

Repository: Rotch Library, Massachusetts Institute of Technology (Cambridge, Massachusetts, United States)

,

1913

)

(

Repository: Rotch Library, Massachusetts Institute of Technology (Cambridge, Massachusetts, United States)

,

1913

)

(

Repository: Rotch Library, Massachusetts Institute of Technology (Cambridge, Massachusetts, United States)

,

1914

)

(

Repository: Rotch Library, Massachusetts Institute of Technology (Cambridge, Massachusetts, United States)

,

1913

)

(

Repository: Rotch Library, Massachusetts Institute of Technology (Cambridge, Massachusetts, United States)

,

1913

)

(

Repository: Rotch Library, Massachusetts Institute of Technology (Cambridge, Massachusetts, United States)

,

1913

)

(

Repository: Rotch Library, Massachusetts Institute of Technology (Cambridge, Massachusetts, United States)

,

1913

)

(

Repository: Rotch Library, Massachusetts Institute of Technology (Cambridge, Massachusetts, United States)

,

1912

)

(

Repository: Rotch Library, Massachusetts Institute of Technology (Cambridge, Massachusetts, United States)

,

1913

)