Secunderabad Club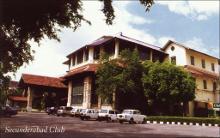 Alternative Titles
Secunderabad Public Rooms
Secunderabad Garrison Club
Secunderabad Gymkhana Club
United Services Club
Date
1878
Description
Oldest of the clubs in Hyderabad, it was established on the pattern of cantonment clubs in British India and opened on 26 April 1878, meant mainly for the military officers and railway officials in the area. Initially called Secunderabad Public Rooms, it changed name in 1888 to United Services Club, still later it became known as the Secunderabad Club. Its imposing building in hill station style has murals painted by M.M. Kaye of the Far Pavilions fame. The club has a ball room, a Gymkhana, and a library. Salar Jang I donated large sums of money to the Club and ensured the membership of the Hyderabadi nobility, so that it did not become a British-only club.
general view
Subject
Recreation, India --History --British occupation, 1765-1947, Clubs (associations), Officers (Military officers), Islamic cities and towns, Architecture, Islamic --India, Great Britain --Colonies --Asia, India --Social life and customs, Hyderabad (India), Secunderābād (India), Hill stations, Deccan (India)
Rights
(c)D. Ravinder Reddy
Rights Statement
All rights reserved
---
Collections
Related items
Showing items related by title, author, creator and subject.