Santa Maria dei Sette Dolori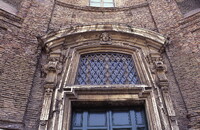 Date
1646-1649
Description
Detail of the portal, upper portion; The church, planned by Borromini, is enclosed by a convent, built in various periods between 1643 and 1667. The interior was completely repainted in 1845, altering Borromini's wishes to keep it white. The original floor, in brickwork, has been lost. The construction of the church was not completed by the architect because of the pressing commitments for the jubilee restoration of the Lateran Basilica. Today the complex houses Augustinian oblates.
Type of Work
church

;

convent
Subject
architecture, Baroque
Rights
© Scott Gilchrist, Archivision, Inc.
Rights Statement
Licensed for educational and research use by the MIT community only
---
Collections