Summaries and Transcripts (1983-1995)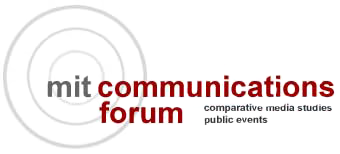 For more than twenty-five years the Communications Forum has played a unique role at MIT and beyond as a site for cutting-edge discussion of the cultural, political, economic and technological impact of communications, with special emphasis on emerging technologies.
Leading scholars, journalists, media producers, political figures and corporate executives have appeared at conferences and panels sponsored by the Forum.
Translating specialized or technical perspectives into a discourse accessible to non-specialists is a defining ambition of the Forum. When engineers, scientists, other academics or media practitioners address the Forum, they accept a responsibility to speak in a common language that must be understood and used by literate citizens and professionals in many fields.
Summaries and transcripts are currently available for the years 1983-1995. Materials from 1996-present will be forthcoming.
Recent Submissions
(

Massachusetts Institute of Technology. Communications Forum

,

1995

)

(

Massachusetts Institute of Technology. Communications Forum

,

1995

)

(

Massachusetts Institute of Technology. Communications Forum

,

1995

)

(

Massachusetts Institute of Technology. Communications Forum

,

1995

)

(

Massachusetts Institute of Technology. Communications Forum

,

1995

)

(

Massachusetts Institute of Technology. Communications Forum

,

1994

)

(

Massachusetts Institute of Technology. Communications Forum

,

1994

)

(

Massachusetts Institute of Technology. Communications Forum

,

1994

)

(

Massachusetts Institute of Technology. Communications Forum

,

1994

)

(

Massachusetts Institute of Technology. Communications Forum

,

1993

)

(

Massachusetts Institute of Technology. Communications Forum

,

1993

)

(

Massachusetts Institute of Technology. Communications Forum

,

1993

)

(

Massachusetts Institute of Technology. Communications Forum

,

1993

)

(

Massachusetts Institute of Technology. Communications Forum

,

1994

)

(

Massachusetts Institute of Technology. Communications Forum

,

1994

)

(

Massachusetts Institute of Technology. Communications Forum

,

1994

)

(

Massachusetts Institute of Technology. Communications Forum

,

1994

)

(

Massachusetts Institute of Technology. Communications Forum

,

1994

)