Perceptual Form of the City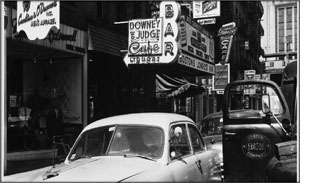 The objects in this collection relate to Kevin Lynch's study The Perceptual Form of the City, conducted in Boston, Massachusetts from 1954-1959.
In 1954 MIT Professor Kevin Lynch began studying city form in a five year project funded by The Rockefeller Foundation. The study was done under the direction of Lynch and Professor Gyorgy Kepes at the Massachusetts Institute of Technology Center for Urban and Regional Studies. Their research findings were the foundation of Lynch's theories on city planning discussed in his seminal work The Image of the City.
The Perceptual Form of the City study addressed the legibility and imageability of the American city in terms of the individual's perception of the urban landscape. The study focused on the cities of Boston, Massachusetts, Los Angeles, California, and Jersey City, New Jersey.
The collection includes photographs and records from the Boston phase of the project. The nearly 2,000 black & white photographs, shot by Nishan Bichajian, assistant to Professor Kepes, document the Boston urban environment during the mid-1950s prior to urban renewal. The records document the planning, preparation, and progress of the project (1951-1956), and the research process and findings (1954-1959). These records include field notes, interview transcripts, collected data, correspondence regarding the progress of the project and hand drawn maps.
Only a portion of the project documentation for The Perceptual Form of the City has been digitized. The entirety of the collection is part of the Kevin Lynch papers and is available for research use in the Institute Archives and Special Collections. A finding aid is available for the Kevin Lynch papers here.
The print photographs are available in the Rotch Visual Collections.
Recent Submissions