The New Grand Balloon
Walker, W.C.
;
Green, Charles, 1785-1870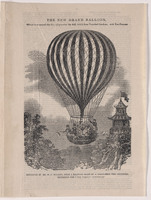 Date
1836
Description
Article published in the Weekly Chronicle about the ascent of Charles Green's balloon on September 23, 1836 from Vauxhall Gardens. From an account written by one of the passengers and an account written by Green. An accompanying illustration shows the balloon in the air with the ten passengers and spectators watching from a tower window.
For more information about this item, visit https://archivesspace.mit.edu/repositories/2/digital_objects/683
Subject
Balloons (aircraft), Balloonists, Balloon ascensions, Green, Charles, 1785-1870, Hollond, Robert, Gye, Edwin
---