Burton Barr Central Library
Creator
Bruder, William P.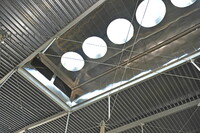 Download
1A2-US-PH-BL-E12_cp.jpg (478.7Kb)
Date
2013-12-24
Description
Top floor reading room ceiling with tensegrity roof structure and skylights; DWL Architects and Will Bruder teamed to design the building, the central library for the Phoenix Public Library system. Ongoing work has been performed by Will Bruder+Partners. The building incorporates a Buckminster Fuller tensegrity structure in its roof and is physically oriented for a display of sunlight alignment on equinox days. The building is five stories; most of the fifth floor is an open, 1-acre (0.40 ha) reading room. The entire building is connected by a five-floor glass-and-steel elevator and stairwell known as the "Crystal Canyon." The footprint of the library is based upon 32 ft. 8 in. square bays, a measurement derived from library stack modules. In 2010, the library received a LEED Existing Buildings Silver 2.0 designation. Source: ArchDaily; http://www.archdaily.com/ (accessed 6/6/2013)
Type of Work
library (building)
Subject
architecture, contemporary (1960 to present), parks (recreation areas), Sustainable buildings, green architecture, passive solar, Twentieth century
Rights
© Scott Gilchrist, Archivision, Inc.
Rights Statement
Licensed for educational and research use by the MIT community only
---
Collections