Charles Mingus Youth Arts Center
Metro Builders and Engineers Group, Ltd.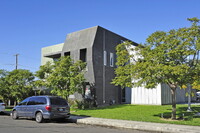 Download
1A2-US-LA-CMYA-A01_cp.jpg (590.5Kb)
Date
2003-2008
Description
Overall three-quarter view; Charles Mingus, the musician, grew up in a small house around the corner from the structure that would become known the world over as the "Watts Towers of Simon Rodia". He attended local schools in the neighborhood. His collaborator, Buddy Collette, started a Jazz Mentorship Program, which is the foundation of the music program at the center. The two-story center also has art and theater programs for children. The design architect was Celso Del Poso. Source: Watts Towers Arts Center; http://www.wattstowers.org/ (accessed 8/11/2013)
Type of Work
community center
Subject
architecture, contemporary (1960 to present), music, Education, Performing arts, music education, Twenty-first century
Rights
© Scott Gilchrist, Archivision, Inc.
Rights Statement
Licensed for educational and research use by the MIT community only
---
Collections