Calton Square Offices + Omni Edinburgh Centre
Unknown creator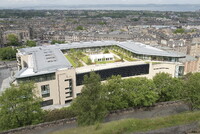 Alternative Title
Omni Center
Date
2000-2002
Description
Overall aerial view of Omni Edinburgh Centre looking northwest from Calton Hill showing interior grass courtyard; Mixed-use development in lea of Calton Hill (northwest face of the base of the hill). This site had lain empty for 40 years as the Council tested various developers. The project comes in two parts: Omni Edinburgh includes shops, restaurants, health club and a 12-screen cinema; the other, Calton Square, is a massive office development, two-thirds of which the Baillie Gifford will occupy as its new headquarters. Completed October 2002.
Type of Work
mixed-use development

;

shopping mall

;

office building
Subject
architecture, business, commerce and trade, contemporary (1960 to present), Green roofs (Gardening), Twenty-first century
Rights
© Scott Gilchrist, Archivision, Inc.
Rights Statement
Licensed for educational and research use by the MIT community only
---
Collections