Firminy-Vert Documentation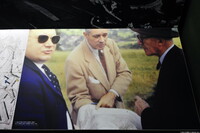 Download
1A1-LC-FV-PH-A4_cp.jpg (294.7Kb)
Alternate file
Date
2013-07-29
Description
Photograph of Charles Delfante, Marcel Roux and Le Corbusier (right) at Firminy-Vert, 1958; Photographs, and printed material and drawings of the site by Le Corbusier on display at the Maison de la Culture. Some materials are reproduced from the archives of the city of Firminy.
Type of Work
drawing (visual work)

;

photograph

;

document
Subject
architecture, contemporary (1960 to present), City planning, Twentieth century
Rights
© Scott Gilchrist, Archivision, Inc.
Rights Statement
Licensed for educational and research use by the MIT community only
---
Collections