Veer Towers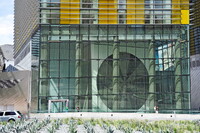 Date
2010
Description
West building (tower), base of the building and east side of The Crystals; The two 37-floor towers include a mix of studios, one-, two- and three-bedroom units and penthouses (670 units total). The lobby has an 80 ft. atrium. Francisco Gonzalez-Pulido, one of the designers who worked with architect Helmut Jahn on the buildings, said the dynamic design is a move to making Las Vegas a more urban city. The buildings are expected to use at least 30 percent less energy than a typical building and are LEED Gold certified, despite being a "glass box in the desert," Gonzalez-Pulido said. The building uses external fins on the windows and glass that reflects the light. The two buildings are designed to interact with one another, with each leaning five degrees in opposite directions. (July 15, 2010, Las Vegas Sun article).
Type of Work
skyscraper

;

apartment house

;

condominium (built work)
Subject
architecture, contemporary (1960 to present), Architecture and energy conservation, City planning, urban renewal, condos, brise-soleil, Twenty-first century
Rights
© Scott Gilchrist, Archivision, Inc.
Rights Statement
Licensed for educational and research use by the MIT community only
---
Collections