Obelisk [by Giambologna]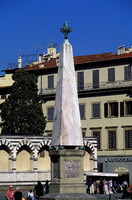 Date
1600
Description
Side view of entire obelisk; From the 16th to the 19th centuries the Piazza Santa Maria Novella was the site of the Palio dei Cocchi. This was a two-horse chariot race based on the "biga" races in ancient Rome. Each 24th of June, on St. John's day, the square was divided into tracks with a rope that stretched between two wooden pyramids. In the 17th century these were replaced by two marble obelisks designed by Giambologna and these served the same purpose through the 19th century.
Type of Work
monument

;

sculpture (visual work)
Subject
recreation and games, festivals, Mannerist (Renaissance-Baroque style)
Rights
© Scott Gilchrist, Archivision, Inc.
Rights Statement
Licensed for educational and research use by the MIT community only
---
Collections