Central Park
Olmsted, Frederick Law, Sr.
;
Vaux, Calvert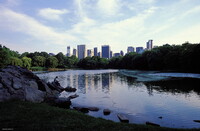 Date
1857-1875
Description
The Lake, view looking south with a distant view of Midtown Manhattan in the background; In autumn 1857 Olmsted became Superintendent of Central Park, then still an undeveloped site, in New York. The following spring he and Calvert Vaux, the former collaborator of A. J. Downing, won the public competition to design the 345-ha park. Their plan, Greensward, was the only one that proposed to run the four required transverse roads across the park below the line of sight. It also provided the greatest expanse of meadow of any entry. Appointed Architect-in-Chief of the park in early 1858, Olmsted directed its construction, coordinating the work of engineers, architects and other professionals. By the outbreak of the Civil War in 1861, construction of the park was nearly complete below the reservoir at 79th Street. Source: Grove Art Online; http://www.groveart.com/ (accessed 2/8/2008)
Type of Work
park (recreation area)
Subject
architectural exteriors, landscapes, parks (recreation areas), Nineteenth century, Picturesque, the
Rights
© Scott Gilchrist, Archivision, Inc.
Rights Statement
Licensed for educational and research use by the MIT community only
---
Collections