Capitol Hill Landscape
Olmsted, Frederick Law, Sr.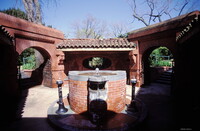 Date
1874-1892
Description
North grounds, view within the Summer House (begun in 1879 by Olmsted to provide comfort for those who explore the area on foot); In 1877 Olmsted's position with the New York City Department of Parks was abolished. He was becoming increasingly involved in projects outside New York, principally the grounds and terraces of the US Capitol in Washington, DC (1874). The extensive West Front terrace and the paved area at the East Front, relieved only by fountains and panels of grass and shrubs, demonstrate his willingness to use a formal architectural treatment when appropriate. Source: Grove Art Online; http://www.groveart.com/ (accessed 2/8/2008)
Type of Work
common

;

garden

;

fountain
Subject
architectural exteriors, landscapes, parks (recreation areas), Nineteenth century
Rights
© Scott Gilchrist, Archivision, Inc.
Rights Statement
Licensed for educational and research use by the MIT community only
---
Collections