Boston Public Garden
Creator
Meacham, George V.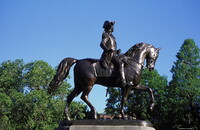 Alternative Title
The Public Garden (Boston)
Date
1837-1859
Description
Close view of the Equestrian Statue of George Washington; The Public Garden is a large park located in the heart of Boston, Massachusetts and is adjacent to the Boston Common. The Public Garden was established in 1837 by Boston Brahmin and philanthropist Horace Gray as the first public botanical garden in the United States. The twenty-four acre (97,000 sq m) landscape, which was once a salt marsh, was designed by George V. Meacham. In 1859, an act by the Massachusetts General Court preserved the Public Garden as an open space. Together with the Boston Common, these two parks form the northern terminus of the Emerald Necklace, a long string of parks designed by Frederick Law Olmsted. While the Common is primarily unstructured open space, the Public Garden contains a lake and a large series of formal plantings that are maintained by the city and others and vary from season to season. Source: Wikipedia; http://en.wikipedia.org/wiki/Main_Page (accessed 2/8/2008)
Type of Work
garden

;

park (recreation area)
Subject
landscapes, Gardens, parks (recreation areas), Nineteenth century
Rights
© Scott Gilchrist, Archivision, Inc.
Rights Statement
Licensed for educational and research use by the MIT community only
---
Collections