Delphi: Theater
Unknown creator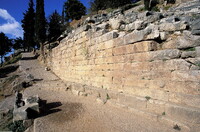 Alternative Title
Theater
Date
-400--300
Description
View along the west outer retaining wall; The ancient theatre at Delphi was built further up the hill from the Temple of Apollo giving spectators a view of the entire sanctuary and the valley below. It was originally built in the 4th century BCE but was remodeled on several occasions since. Its 35 rows can seat 5,000 spectators.
Type of Work
theater (building)
Subject
architectural exteriors, recreation and games, festivals, Classical
Rights
© Scott Gilchrist, Archivision, Inc.
Rights Statement
Licensed for educational and research use by the MIT community only
---
Collections