Delphi: Offering of Krateros and other votive monuments
Unknown creator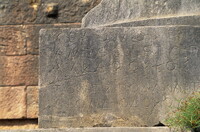 Alternative Title
Offering of Krateros and other votive monuments
Date
-399--300
Description
Base of the Tripods of the Deinomenids (dedicated after the victory over the Carthaginians at Himera in 480 BC), detail of the left base, depicting Greek inscription; What is still extant in situ are the monumental bases for votive offerings. Any surviving sculpture has been removed to Delphi Museum.
Subject
architectural exteriors, deities, mythology (Classical), Classical
Rights
© Scott Gilchrist, Archivision, Inc.
Rights Statement
Licensed for educational and research use by the MIT community only
---
Collections