Delphi: Sacred Way
unknown (Greek (ancient))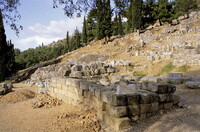 Alternative Titles
Sacred Way of Delphi
Via Sacra
Date
-600
Description
The Sacred Way, the remains of the Boeotian Treasury; The Sacred Way was once lined with tens of treasuries, literally "place where gold things are put," which housed the valuable and beautiful votive offerings provided by individual city-states and colonies. As a political oracle, Delphi served states, not individuals, and was rewarded by same. The Sacred Way of Delphi, with the Phaedriades, or "Shining Rocks," as a backdrop winds its way up the mountain in a series of serpentine turns, offering showcases at every turn for the votive offerings left behind by grateful city-states and island colonies. Delphi achieved the height of its fame during the 6th century BCE, as Greece passed from the Archaic to the Classical Age.
Type of Work
street

;

treasury
Subject
architectural exteriors, deities, mythology (Classical), Pilgrims and pilgrimages, Classical
Rights
© Scott Gilchrist, Archivision, Inc.
Rights Statement
Licensed for educational and research use by the MIT community only
---
Collections