Sanctuary of Athena Pronaia: Doric Tholos
Unknown creator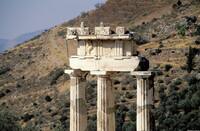 Alternative Title
Doric Tholos
Date
-390
Description
View of the entablature; One monument at Delphi had a particular influence on the architecture of the 4th century BCE. This was the Doric Tholos (ca. 390 BCE), built at the Marmaria, of Pentelic marble, by Theodoros of Phokaia. This was the only peripteral tholos of its time and the most ornate sacred building since the Parthenon. It had 80 sculpted metopes (40 over the 20-column peristyle and 40 over the cella wall), acroteria on top of the marble roof and 9 chryselephantine statues between 10 internal Corinthian columns. The latter helped to popularize the Corinthian order, while the peristyle hastened the development of more slender Doric columns, and the lavish double gutter created a fashion for gutters decorated with lions' heads between acanthus scrolls (especially at Epidauros). The Tholos as a whole stimulated the construction of great circular buildings at Epidauros, Olympia and Samothrace. Theodoros' treatise about it was later known to Vitruvius, and its influence on Roman architecture is readily apparent, for example in buildings depicted in Pompeian wall paintings.
Subject
architectural exteriors, deities, mythology (Classical), Classical
Rights
© Scott Gilchrist, Archivision, Inc.
Rights Statement
Licensed for educational and research use by the MIT community only
---
Collections