Pennsylvania Station (Baltimore)
Creator
Murchison, Kenneth M.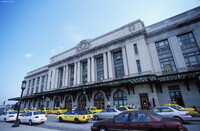 Download
1A2-US-BT-PS-A1_cp.jpg (494.6Kb)
Alternate file
Alternative Title
Baltimore Penn Station
Date
1911
Description
General frontal view of the station; Pennsylvania Station (generally referred to as Penn Station) is the main train station in Baltimore, Maryland. Designed by New York architect Kenneth MacKenzie Murchison (1872-1938), it was constructed in 1911 in the Beaux-Arts style of architecture for the Pennsylvania Railroad. The station was originally known as Union Station (because it was served by both Pennsylvania Railroad and Western Maryland Railway), but was renamed to match other Pennsylvania Stations in 1928. Source: Wikipedia; http://en.wikipedia.org/wiki/Main_Page (accessed 11/11/2007)
Type of Work
railroad station
Subject
architectural exteriors, engineering and industry, manufacturing, Transportation, Beaux-Arts
Rights
© Scott Gilchrist, Archivision, Inc.
Rights Statement
Licensed for educational and research use by the MIT community only
---
Collections