Baltimore Holocaust Memorial
Creator
Richter Cornbrooks Gribble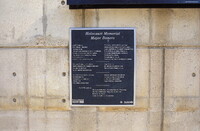 Download
1A2-US-BT-HM-D3_cp.jpg (616.0Kb)
Alternate file
Date
2013-05-17
Description
View of plaque recognizing donors; The Holocaust Memorial in downtown Baltimore was originally built in 1980 and was redesigned in 1997. Today, the centerpiece of the stark gray memorial are two concrete monoliths that represent the boxcars used to transport Jews to the Nazi death camps during World War II. Railroad tracks surround the structure. The redesign, which cost $400,000, required the removal of a grassy hill to give passersby along the Inner Harbor a view of the memorial.
Subject
contemporary (1960 to present), death or burial, historical, military, war, Holocaust, Modernist
Rights
© Scott Gilchrist, Archivision, Inc.
Rights Statement
Licensed for educational and research use by the MIT community only
---
Collections