Sears Tower
Creator
Skidmore, Owings & Merrill
Graham, Bruce
Khan, Fazlur R.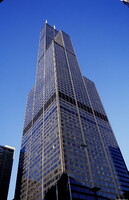 Date
1970-1973
Description
View looking up the tower, from the southwest corner; The Sears Tower is a skyscraper in Chicago, Illinois. It has been the tallest building in the United States since 1973, surpassing the World Trade Center, which itself had surpassed the Empire State Building only a year earlier. Commissioned by Sears, Roebuck and Company, it was designed by chief architect Bruce Graham and structural engineer Fazlur Khan of Skidmore, Owings and Merrill. Black bands appear on the tower around the 29th-32nd, 64th-65th, 88th-89th, and 104th-109th floors. These are louvers which allow ventilation for service equipment and obscure the structure's belt trusses which Sears Roebuck did not want to be visible as on the John Hancock Center. Source: Wikipedia; http://en.wikipedia.org/wiki/Main_Page (accessed 11/4/2007)
Type of Work
office building

;

skyscraper
Subject
architectural exteriors, business, commerce and trade, Modernist, International Style (modern European architecture style)
Rights
© Scott Gilchrist, Archivision, Inc.
Rights Statement
Licensed for educational and research use by the MIT community only
---
Collections