John Hancock Center
Skidmore, Owings & Merrill
;
Graham, Bruce
;
Khan, Fazlur R.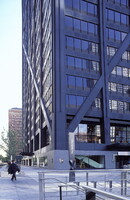 Date
1969
Description
General view of the northwest corner; The building is home to offices and restaurants, as well as about 700 condominiums and contains the highest residences in the world. "From the 1960s skyscrapers increasingly characterized the centre of Chicago: about 75 were built in the 1970s and 1980s. Indeed two buildings by the practice of Skidmore, Owings & Merrill (SOM) are among the tallest in the world: working in association with the SOM practice, Bruce Graham built the multi-purpose John Hancock Center, standing at 344 m, in 1969, and five years later he worked with Fazlur Khan (1929-1982) and SOM to produce the Sears Tower (443 m) using a tubular steel frame." The tubular steel frame and bracing was pioneered by Bangladeshi-American structural civil engineer Fazlur Khan. Source: Grove Art Online; http://www.groveart.com/ (accessed 12/2/2007)
Type of Work
office building

;

skyscraper

;

mixed-use development
Subject
architectural exteriors, contemporary (1960 to present), Modernist
Rights
© Scott Gilchrist, Archivision, Inc.
Rights Statement
Licensed for educational and research use by the MIT community only
---
Collections