Grande Arche de la Fraternité
Creator
Spreckelsen, Johan Otto von
Andreu, Paul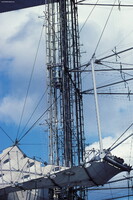 Alternative Title
Arche de la Défense
Date
1983-1990
Description
View of the elevator shaft, depicting an elevator going up; The Grande Arche de la Fraternité is a monument in the business district of La Défense to the west of Paris. It is usually known as the Arche de la Défense or simply as La Grande Arche. An international design competition was launched at the initiative of French president François Mitterrand. Danish architect Johann Otto von Spreckelsen designed the winning entry to be a 20th century version of the Arc de Triomphe: a monument to humanity and humanitarian ideals rather than military victories. After Spreckelsen's death in 1987, his associate, French architect Paul Andreu, completed the work. The two sides of the Arche house government offices. The roof section is an exhibition centre.
Type of Work
monument

;

exhibition building
Subject
architectural exteriors, contemporary (1960 to present), Modernist
Rights
© Scott Gilchrist, Archivision, Inc.
Rights Statement
Licensed for educational and research use by the MIT community only
---
Collections