Rockefeller Center
Harrison, Wallace Kirkman
;
Hood, Raymond M.
;
Abramovitz, Max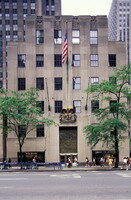 Date
1931-1940
Description
International Building North, frontal view of the 5th Avenue façade; Principal architect was Raymond Hood, working with and leading three architectural firms, [ Reinhard & Hormeister; Corbett, Harrison, & MacMurray (1929-1935); Godley & Fouilhoux ], on a team that included a young Wallace Harrison. The firms were known as The Associated Architects. Rockefeller Center was acclaimed as a pioneering concept of commercial, multilevel, superblock planning; its Art Deco skyscrapers, including the RCA Building, are grouped around a sunken plaza. Many are embellished with landscaped terraces. Harrison and Abramovitz were later responsible for the more mundane towers (1959-1974) on the Sixth Avenue side of the complex. Source: Grove Art Online; http://www.groveart.com/ (accessed 1/9/2008)
Type of Work
skyscraper

;

office building

;

mixed-use development
Subject
architectural exteriors, business, commerce and trade, cityscapes, City planning, Art Deco
Rights
© Scott Gilchrist, Archivision, Inc.
Rights Statement
Licensed for educational and research use by the MIT community only
---
Collections