Villa Guggenbuhl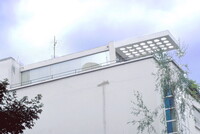 Date
1927
Description
Close view of projecting glass bay with canopy, depicting full upper terrace and cantilevered canopy; Built by André Lurçat in 1927, the house is almost a cubic sculpture, stripped and without decorative effect. The front of the house was equipped with windows laid out irregularly, to determine a set of verticals and the horizontal ones. The house lost a little of its sculptural character because of the creation of new windows.
Subject
architectural exteriors, International Style (modern European architecture style), Modernist
Rights
© Scott Gilchrist, Archivision, Inc.
Rights Statement
Licensed for educational and research use by the MIT community only
---
Collections