Monticello Gardens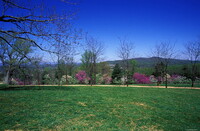 Date
1768-1826
Description
North gardens, view looking east; The main house was augmented by small outlying pavilions to the north and south. A row of functional buildings (dairy, wash houses, store houses, a small nail factory, a joinery etc.) and slave dwellings known as Mulberry Row lay nearby to the south. A stone weaver's cottage survives, as does the tall chimney of the joinery, and the foundations of other buildings. The gardens at Monticello were a botanic showpiece, a source of food, and an experimental laboratory of ornamental and useful plants from around the world. The flower gardens virtually disappeared after Jefferson's death in 1826; however, they were revived and restored by The Garden Club of Virginia between 1939 and 1941. The ensuing restoration seems unusually accurate, especially considering the state of the art of landscape and garden restoration at the time.
Type of Work
garden structure

;

garden
Subject
architectural exteriors, plants, Gardens, Neoclassical
Rights
© Scott Gilchrist, Archivision, Inc.
Rights Statement
Licensed for educational and research use by the MIT community only
---
Collections