Second Leiter Building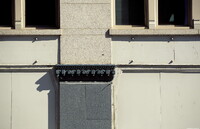 Alternative Titles
Leiter II Building
Sears, Roebuck & Co.
Date
1888-1891
Description
Frontal view depicting windows; Renowned as one of the nation's most important early examples of skeletal-frame commercial architecture, this building is discussed in every major history of American architecture. A National Historic Landmark, it was designed by William Le Baron Jenney, the so-called "father of the skyscraper." This building was erected by Levi Leiter; later, it was leased by Sears, Roebuck & Co. for its flagship department store. It is the city's oldest surviving department store, a type of building that contributed to State Street's development as a retailing thoroughfare. The so-called "first Leiter" building, built in 1879 at Wells and Monroe, was demolished in 1972. Source: Chicago Landmarks [website]; http://www.ci.chi.il.us/Landmarks/ (accessed 12/3/2007)
Type of Work
department store
Subject
architectural exteriors, business, commerce and trade, Chicago School, Modernist
Rights
© Scott Gilchrist, Archivision, Inc.
Rights Statement
Licensed for educational and research use by the MIT community only
---
Collections