Housing Administration Services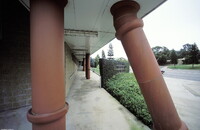 Alternative Title
International Student Center
Date
1988
Description
Close view, depicting sewer pipe columns, and the "bent" column; A Postmodern building with a sewer pipe colonnade, imaginative windows and playful roof forms with a visual joke above the bent column of a hammer whacking it out of shape. The building is on the campus of University of California, Irvine and is used for offices for student housing registration.
Type of Work
office building
Subject
architectural exteriors, contemporary (1960 to present), Postmodern, Twentieth century
Rights
© Scott Gilchrist, Archivision, Inc.
Rights Statement
Licensed for educational and research use by the MIT community only
---
Collections