Prentice Women's Hospital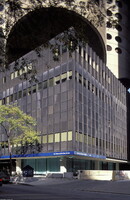 Alternative Title
Prentice Women's Hospital and Psychiatric Institute for Northwestern University Hospital
Date
1974
Description
General view, from the southeast, depicting the base and bottom of tower; A new hospital building named Prentice Women's Hospital was opened in 2007, not to be confused with this building. The Stone Institute of Psychiatry remains in the base of the old Prentice building, whose fate is at present unclear.
Subject
architectural exteriors, scientific or medical, Modernist
Rights
© Scott Gilchrist, Archivision, Inc.
Rights Statement
Licensed for educational and research use by the MIT community only
---
Collections