York Region Administrative Centre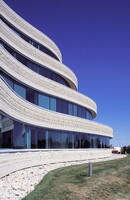 Date
1988-1992
Description
Tight view along the south wing; Newmarket's signature York Region Administrative Centre, a masonry-clad structure designed by Douglas Cardinal Architect Inc. and constructed by Milne & Nicholls Ltd., has won a 2007 Masonry Masterpiece Award.The 245,000-square-foot building, completed in 1992 at a cost of $60 million, was recognized in the innovation category. It was deemed the building that best demonstrated design innovations contributing to sustainable development.
Type of Work
office building
Subject
architectural exteriors, Modernist
Rights
© Scott Gilchrist, Archivision, Inc.
Rights Statement
Licensed for educational and research use by the MIT community only
---
Collections