Canadian Museum of Civilization
Cardinal, Douglas J.
;
Tétreault, Parent, Languedoc et Associés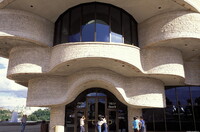 Alternative Title
Musée Canadien des Civilisations
Date
1985-1989
Description
Frontal view of main entrance; Michel Languedoc, senior architect with the Montreal firm Tétreault, Parent, Languedoc et Associés, collaborated with Cardinal on the design of the Museum. Cardinal is of North American Indian descent. The grandest expression of his 'cultural shell' is the Canadian Museum of Civilization, Hull [Gatineau], Quebec; its rhythmic and richly textured, poured- and hammered-concrete exterior fabric contains diversely articulated exhibition spaces and provides a symbolic ensemble with the federal parliament buildings, which face it across the river [in Ottawa]. Source: Grove Art Online; http://www.groveart.com/ (accessed 12/26/2007)
Subject
architectural exteriors, contemporary (1960 to present), Art museums, Native North Americans, First Peoples, Modernist
Rights
© Scott Gilchrist, Archivision, Inc.
Rights Statement
Licensed for educational and research use by the MIT community only
---
Collections