Palazzo del Quirinale
Maderno, Carlo
;
Fontana, Domenico
;
Bernini, Gian Lorenzo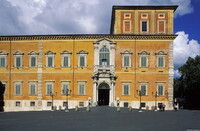 Date
1500-1600
Description
Frontal view of the west elevation, depicting the Benediction Loggia by Bernini; Begun by F. Ponzio and O. Mascherino. The Quirinal Palace (known in Italian as the Palazzo del Quirinale or simply the Quirinale) is the official residence of the President of the Italian Republic upon the Quirinal Hill, the tallest of the seven hills of Rome. The Palazzo del Quirinale was begun in the late 16th century and commissioned by Pope Gregory XIII as a Papal residence. It later became a royal palace. Various architects worked on the project, including Carlo Maderno who designed the chapel, Bernini who designed a wing, and Pietro da Cortona who decorated parts of the interior.
Type of Work
palazzo

;

palace
Subject
architectural exteriors, rulers and leaders, Baroque
Rights
© Scott Gilchrist, Archivision, Inc.
Rights Statement
Licensed for educational and research use by the MIT community only
---
Collections