Ponte Sant'Angelo Angels
Bernini, Gian Lorenzo
;
Raggi, Antonio, I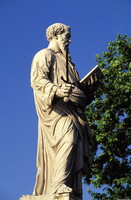 Date
1667-1672
Description
St. Peter, carved by Lorenzetto Romano; In 1667 Pope Clement IX commissioned Bernini to design eight statues of angels holding the symbols of the Passion to be placed over the piers supporting the bridge. All of the figures were designed by Bernini and executed by assistants except for two - the Superscription and the Crown of Thorns which were carved by the artist and his son. They were never installed and copies were made to replace them (the originals were removed to the church of Sant'Andrea delle Fratte.) The others were executed in 1688 by his pupils, including Ercole Ferrata, Pietro Paolo Naldini, Cosimo Fancelli, and Antonio Raggi. At the end towards the castle, the statues of St. Peter and Paul, by the school of Lorenzetto and Paolo Taccone (1464), were set up by Clement VII in 1534. The work was completed in 1672 by Clement X, recorded in an inscription on one of the bases at the north end of the bridge.
Type of Work
sculpture (visual work)
Rights
© Scott Gilchrist, Archivision, Inc.
Rights Statement
Licensed for educational and research use by the MIT community only
---
Collections