Fonseca Chapel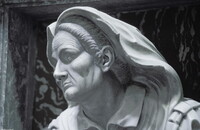 Date
1660
Description
Close-up of head of bust; Located in San Lorenzo in Lucina. The Capella Fonseca is named after Gabriele Fonseca, doctor to Innocent X. The chapel itself was designed by Bernini and executed probably in the early 1660's, but not finished until later. Fonseca was very concerned with the quality of water in Rome and the Campagna, which he wanted to purify from malarial elements. His efforts in this regard are exemplified in a mural on the right wall of the chapel by Giacinto Gimignani, "Elisha pouring salt into the waters of Jericho in order to purify them" (1664). Bernini's bust of Fonseca, a later work of great intensity and passion, shows the doctor in deep prayer, looking towards the altar. The altarpiece (the Annunciation) by Lodovico Gimignani is a variant on the one by Guido Reni in the Quirinal chapel.
Type of Work
sepulchral chapel

;

sculpture (visual work)
Subject
death or burial, portraits, Baroque
Rights
© Scott Gilchrist, Archivision, Inc.
Rights Statement
Licensed for educational and research use by the MIT community only
---
Collections