Second Outside Coffin of Tutankhamen
unknown (Egyptian (ancient))
;
Tutankhamen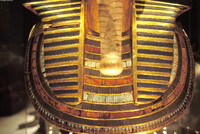 Download
7A3-EG-C-CM-2-D3_cp.jpg (617.2Kb)
Alternative Title
Tutankhamun's second anthropoid coffin
Date
-1332--1322
Description
Detail of the head, looking down; Carter no. 254, the second anthropoid coffin. (The innermost coffin holding the mummy is solid gold, Cairo, Egyp. Mus., JE 60671).
Subject
death or burial, decorative arts, rulers and leaders, Egypt--Religion, Tutankhamen, King of Egypt, New Kingdom (Egyptian), Eighteenth Dynasty
Rights
© Scott Gilchrist, Archivision, Inc.
Rights Statement
Licensed for educational and research use by the MIT community only
---
Collections