Place Jean-Paul Riopelle
Williams, Asselin, Ackaoui et associés Inc.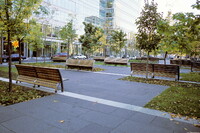 Date
2002-2005
Description
View into the park, looking northwest, with the CDP Capital Center at left; Located between the new entrance of the Palais des congrès and that of the CDP Capital Centre, Place Jean-Paul-Riopelle is a new public square constructed on a former parking lot and a covered section of the Ville-Marie Expressway. The square is an ideal setting for the sculpture-fountain by Riopelle called La Joute (The Joust). In keeping with the artist's vision, the central sculpture, a prodigious and important work, is set in a fountain encircled by a ring of fire. The square also features 88 trees in an urban forest representing 11 species from Maple to Hickory (indigenous to the Montréal region). These mature trees are randomly positioned just like computer circuits. Mist blowers and lights underground are activated, as "La Joute" becomes a kinetic sculpture at nightfall. The square has become a popular spot for luncheon breaks and a point of interest for visitors who come to see the sculpture's 30-minute series of effects. The dramatic effect of water, mist and lighting brings Riopelle's vision to life. Source: http://www.qimtl.qc.ca/EVENTS_jpriopelle.php "The statue [fountain] was formerly located in the Parc Olympique, in the Hochelaga-Maisonneuve district of Montreal. Its relocation to the Place Jean-Paul-Riopelle during the redevelopment of the Quartier international de Montréal in 2003 provoked controversy." Source: Wikipedia; http://en.wikipedia.org/wiki/Main_Page (accessed 2/12/2008)
Type of Work
square (open space)

;

garden

;

mixed-use development

;

fountain
Subject
architectural exteriors, cityscapes, Fountains, parks (recreation areas), Modernist
Rights
© Scott Gilchrist, Archivision, Inc.
Rights Statement
Licensed for educational and research use by the MIT community only
---
Collections