Tomb of Sennedjem
unknown (Egyptian (ancient))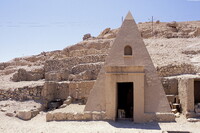 Date
-1200
Description
View of the pyramid chapel entrance to the tomb (restored); At Deir el-Medina the tombs of the royal necropolis workers differed markedly in design from the 18th and 19th Dynasty tombs of the nobility. The Ramesside tombs of the workmen's village are of two main types: a brick pyramid chapel above ground with a shaft leading to the burial chamber; and a subterranean rock-cut chapel with a pyramidal superstructure. Pyramid chapels, such as those of Ankhorkawy (TT 359) and Sennedjem (TT 1) are raised on a brick or stone socle, plastered on the outside to present a smooth face, and were topped by a pyramidion, probably of black stone. The stele is set facing east in a niche or raised in front of the door to the chapel. The interior of the pyramid was corbelled and plastered over to form vaults. The underground rooms have an irregular plan. A vertical shaft descends for 3-4 m to a corridor leading into a vaulted room, which leads to a second room cut at a lower level. All the rooms are brick-lined and vaulted.
Type of Work
pyramid (tomb)

;

tomb

;

excavation (site)
Subject
architectural exteriors, death or burial, deities, domestic life, genre, Egypt--Religion, New Kingdom (Egyptian), Nineteenth Dynasty
Rights
© Scott Gilchrist, Archivision, Inc.
Rights Statement
Licensed for educational and research use by the MIT community only
---
Collections