Philae; Drawings on Site
unknown (Egyptian (modern))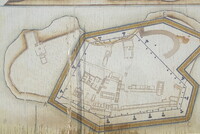 Download
1A3-EG-PH-8-AA2_cp.jpg (570.9Kb)
Alternate file
Date
1980-2003
Description
Plan of Philae Temple on Philae Island before it was moved to Agilkia Island, showing the high wall that was built before they moved it (drawing found on site); Depicts site plan and the removal from Philae and reconstruction (ca. 1972-1980).
Subject
architectural exteriors, architectural drawings, Twentieth century
Rights
© Scott Gilchrist, Archivision, Inc.
Rights Statement
Licensed for educational and research use by the MIT community only
---
Collections