Monastery and Church of Saint George
unknown (Egyptian (modern))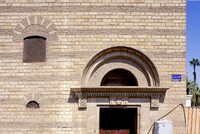 Download
1A3-CP-C-CSG-A4_cp.jpg (663.4Kb)
Alternate file
Alternative Title
Mar Girgis Church (St.George)
Date
1909
Description
West elevation, detail at the southwest corner, showing a portal and window; Burnt in 1904 rebuilt 1909. The church located on this site has been Greek Orthodox since the 15th century. It is located in the area known as Old (Coptic) Cairo (Masr al-Qadima).
Type of Work
monastery

;

church
Subject
architectural exteriors, Twentieth century
Rights
© Scott Gilchrist, Archivision, Inc.
Rights Statement
Licensed for educational and research use by the MIT community only
---
Collections