San Marco (Rome)
Unknown creator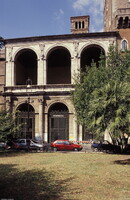 Date
1455
Description
View of the uncompleted court elevation (attributed to Alberti); The basilica was probably founded by Pope St Marcus (Mark) in 336, and is one of Rome's oldest churches. It stand on the site where St Marcus is said to have lived, and was known as the Titulus Pallacinae. The church was rebuilt in the 5th century, and was left facing the opposite direction. It was reconstructed in the 8th century by Pope Adrian I (772-795), and given back its original orientation, which it has today. It was flooded when the Tiber rose above its banks soon after, in 791. Pope Gregory IV (827-844) restored it after the flood. Pietro Cardinal Barbo, titular of the church and later Pope Paul II, restored it again in 1455-1471. At the same time, he built the Palazzo Venezia. Cardinal Barbo declared San Marco as the national church of the Venetians. The 15th century church is one of the first of the Renaissance built in Rome, and is attributed to the design of Leon Battista Alberti, it has a portico with three arches, with the Loggia of Benedictions above - the loggia was completed by Giuliano da Maiano in 1471.
Subject
architectural exteriors, Renaissance
Rights
© Scott Gilchrist, Archivision, Inc.
Rights Statement
Licensed for educational and research use by the MIT community only
---
Collections