Sant'Agostino; Interior Chapels
Unknown creator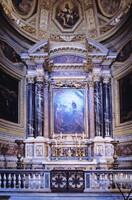 Download
1A2-I-R-SA-2-A2_cp.jpg (749.3Kb)
Alternate file
Date
2013-04-12
Description
Right transept, chapel, frontal view looking up, showing the altarpiece by Giovanni Guercino (1591-1666) SS Augustine, John and Jerome (1637-1638); There are several chapels. Giovanni Maria Baratta is responsible for the decoration (1661-1669) of the Pamphili family chapel of S Tommaso da Villanova in the left transept of S Agostino, Rome, with sculpture by Melchiorre Caffa. The Capella Pio was designed by Bernini (1634-1639) with vault fresco by Abbatini. The altarpiece painting of 'Madonna and Child with St. Anne' is by Andrea Sansovino.
Type of Work
chapel (room or structure)
Rights
© Scott Gilchrist, Archivision, Inc.
Rights Statement
Licensed for educational and research use by the MIT community only
---
Collections