Sant'Agostino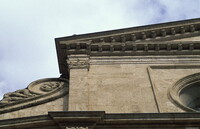 Download
1A2-I-R-SA-1-C5_cp.jpg (374.6Kb)
Alternate file
Date
1483
Description
Front elevation, detail, upper portion showing upper pediment and entablature with pilaster; This church is conducted by the Augustinian Order, and contains the tomb of Saint Monica, Augustine's mother. The original church on the site was built in 1287. It was rebuilt in 1483 by the French Cardinal d'Estouteville: the masons were Jacopo da Pietrasanta and Sebastiano Fiorentino. The church is dedicated to St. Augustine, author of the Confessions. Its severe, unadorned façade is one of the earliest of the Renaissance.
Subject
architectural exteriors, saints, Augustine, Saint, Bishop of Hippo, Renaissance
Rights
© Scott Gilchrist, Archivision, Inc.
Rights Statement
Licensed for educational and research use by the MIT community only
---
Collections