Piazza Farnese
Unknown creator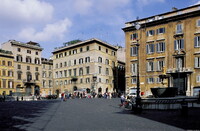 Date
1516-1550
Description
View of the piazza looking northeast; Piazza was created by the Farnese in front of their palace, now the French Embassy. In front of the palace are two huge baths of Egyptian granite brought here from the Baths of Caracalla in the 16th century, and used by the Farnese as a form of "royal box" from which they might watch spectacles held in the square. They were later adapted as fountains (using the lily motif of the Farnese) in 1626.
Type of Work
piazza (square)
Subject
rulers and leaders, City planning, Renaissance
Rights
© Scott Gilchrist, Archivision, Inc.
Rights Statement
Licensed for educational and research use by the MIT community only
---
Collections