Vancouver: Topographic Views of New Housing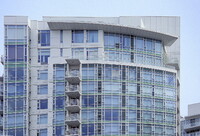 Date
2004
Description
Typical condo tower in south Yaletown, detail, showing summit; Recent (documented 2004) mixed-use developments with multiple high-rise dwellings (apartments and condominiums) frequently mixed with street-level retail. Population density is highest for a major city on the continent after New York City, San Francisco, and Mexico City, and on track to being second by 2021.
Type of Work
photograph

;

topographical view
Subject
architectural exteriors, business, commerce and trade, cityscapes, contemporary (1960 to present), City planning, Housing, mixed-use developments, Twenty-first century
Rights
© Scott Gilchrist, Archivision, Inc.
Rights Statement
Licensed for educational and research use by the MIT community only
---
Collections