Motorola Building
Creator
Lemay et associés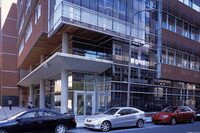 Download
1A2-C-M-SOB-3-C1_cp.jpg (589.3Kb)
Alternative Title
700 Wellington Street
Date
2001
Description
An entrance on the west elevation; An office building built speculatively without a specific client. Since the mid-nineties, Montréal's southern gate has experienced a renaissance starting with the dot-com boom resulting in the conversion of many of the old industrial spaces into lofts, studios and offices for high-tech companies. The Ville de Montréal created the Cité du multimédia (www.citemultimedia.com) in 1998 to encourage the regeneration of the neighbourhood where new buildings were also added to attract more information technology and multimedia firms.
Type of Work
office building
Subject
architectural exteriors, business, commerce and trade, contemporary (1960 to present), City planning, urban renewal, Modernist
Rights
© Scott Gilchrist, Archivision, Inc.
Rights Statement
Licensed for educational and research use by the MIT community only
---
Collections