Cirque du Soleil Campus: Training Centre
Creator
Les architectes FABG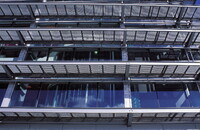 Download
1A2-C-M-CS-1-C4_cp.jpg (644.4Kb)
Alternate file
Date
2001-2005
Description
View into the brise-soleil of the south elevation; The world headquarters of Cirque du Soleil is an 100,000-square-foot complex, fronted with corrugated steel. Inside, there are three training studios, a costume shop, and a props workshop, as well as the casting team and corporate staff.
Type of Work
mixed-use development
Subject
architectural exteriors, contemporary (1960 to present), Performing arts, Modernist, Neo-Rationalist
Rights
© Scott Gilchrist, Archivision, Inc.
Rights Statement
Licensed for educational and research use by the MIT community only
---
Collections