NCNB National Bank Headquarters
Wolf, Harry C.
;
Kiley, Daniel Urban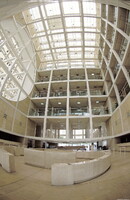 Date
1988
Description
Banking hall, general view looking up and north; In 1988, landscape architect Dan Kiley and architect Harry Wolf, FAIA, completed what many consider to be one of the most important and complete modernist collaborations between an architect and a landscape architect. When it was first completed, the Nations Bank Plaza in Tampa, Florida, was a masterful project that incorporated complex logarithmic patterns, an early example of a green roof, stunning water features, and excellent pieces of modernist architecture. The project stood as an example of what architects and landscape architects can accomplish when working in a truly collaborative fashion. However, due to a disastrous land swap that put the city in charge of maintenance of the plaza, the landscape of this collaboration has been under constant threat since the day it opened. Source: American Society of Landscape Architects; http://www.asla.org/ (accessed 2/11/2008)
Type of Work
bank (building)

;

office building

;

garden

;

fountain
Subject
architectural exteriors, landscapes, Gardens, Modernist
Rights
© Scott Gilchrist, Archivision, Inc.
Rights Statement
Licensed for educational and research use by the MIT community only
---
Collections