Statue of Palladio [19th century]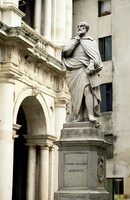 Date
1859
Description
General view; On the southeast side of the Piazza dei Signori in Vicenza stands the Palazzo della Ragione. In front of the west end is a marble statue of Palladio (1859).
Type of Work
sculpture (visual work)
Subject
portraits, Palladio, Andrea, 1508-1580, Nineteenth century
Rights
© Scott Gilchrist, Archivision, Inc.
Rights Statement
Licensed for educational and research use by the MIT community only
---
Collections