Le fabbriche e i disegni di Andrea Palladio
Bertotti-Scamozzi, Ottavio
;
Palladio, Andrea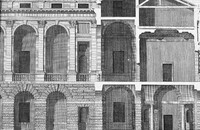 Download
1A1-PA-PT-D-A10_cp.jpg (780.1Kb)
Alternate file
Alternative Title
Le fabbriche e i disegni di Andrea Palladio / raccolti ed illustrati da Ottavio Bertotti Scamozzi, opera divisa in quattro tomi con tavole in rame, rappresentanti le piante, i prospetti, e gli spaccata.
Date
2013-03-11
Description
Palazzo Thiene; cropped section, right portion (plate T XXVI); [Physical descrip: 4 v. : ill., plans; 24 cm. Edition source: University of Toronto Libraries] In 1776 Bertotti Scamozzi published the first volume of Le fabbriche e i disegni di Andrea Palladio raccolti e illustrati. The idea of producing a luxurious edition of Palladio's works for an international, especially English, market began in 1770, when Pietro Edwards first discussed it with Bertotti Scamozzi, the scholar Antonio Locatelli and probably also the collector and patron John Stuart, 3rd Earl of Bute. The aim of the project was to clarify Palladio's ideas for his admirers and imitators, to solve problems of attribution and reconstruction of incomplete or destroyed works, and to resolve the question of the difference between Palladio's completed buildings and those shown in the plates of his treatise I quattro libri. Bertotti Scamozzi erroneously viewed the drawings in I quattro libri as plans representing Palladio's original wishes. He therefore undertook a philological analysis aiming to restore the 'old' Palladio: he collated all the editions of I quattro libri, comparing the designs shown in those plates that he considered most reliable and consistently Palladian with the corresponding buildings and noting the differences in execution. The results of his work were recorded in the drawings published in Le fabbriche. Source: Grove Art Online; http://www.groveart.com/ (accessed 1/25/2008)
Subject
architectural exteriors, architectural drawings, Palladio, Andrea, 1508-1580, Eighteenth century, Palladian
Rights
© Scott Gilchrist, Archivision, Inc.
Rights Statement
Licensed for educational and research use by the MIT community only
---
Collections